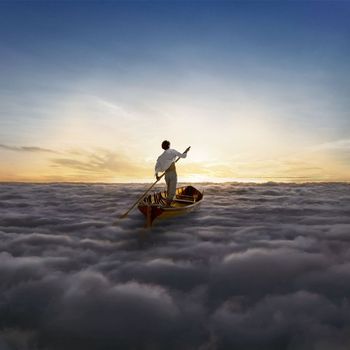 Album vorhören The Endless River
Erscheinungsdatum:
07.11.2014
7digital

Was wir davon halten:

Gerüchte über ein Pink Floyd Comeback gab es bereits seit 2005, als sich Roger Water und Dave Gilmour für Londons Live 8 kurzfristig wieder zusammentaten. Nach neun Jahren nun gibt die Band also endlich nach und veröffentlicht ein neues Album – doch nicht alles ist, wie es scheint. Zum Einen wurden die Lieder bereits 1994 während den Aufnahmen für Pink Floyds grandiosem Album The Division Bell aufgenommen, zum Anderen sind die Lieder fast alle Instrumentalversionen und zu Guter Letzt hat Waters rein gar nichts mit diesem Album zu tun. Allerdings gibt es dafür posthume Aufnahmen des Gründungsmitgliedes Richard Wright.
| Tracknummer | Songtitel | Songlänge | Preis |
| --- | --- | --- | --- |
| 1 | Side 1, Pt. 1: Things Left Unsaid | 4:25 | |
| 2 | Side 1, Pt. 2: It's What We Do | 6:21 | |
| 3 | Side 1, Pt. 3: Ebb And Flow | 1:50 | |
| 4 | Side 2, Pt. 1: Sum | 4:49 | |
| 5 | Side 2, Pt. 2: Skins | 2:38 | |
| 6 | Side 2, Pt. 3: Unsung | 1:07 | |
| 7 | Side 2, Pt. 4: Anisina | 3:15 | |
| 8 | Side 3, Pt. 1: The Lost Art Of Conversation | 1:44 | |
| 9 | Side 3, Pt. 2: On Noodle Street | 1:42 | |
| 10 | Side 3, Pt. 3: Night Light | 1:42 | |
| 11 | Side 3, Pt. 4: Allons-y (1) | 1:57 | |
| 12 | Side 3, Pt. 5: Autumn '68 | 1:35 | |
| 13 | Side 3, Pt. 6: Allons-y (2) | 1:35 | |
| 14 | Side 3, Pt. 7: Talkin' Hawkin' | 3:26 | |
| 15 | Side 4, Pt. 1: Calling | 3:39 | |
| 16 | Side 4, Pt. 2: Eyes To Pearls | 1:52 | |
| 17 | Side 4, Pt. 3: Surfacing | 2:47 | |
| 18 | Side 4, Pt. 4: Louder Than Words | 6:33 | |
Gesamtspielzeit:

52:57
Genres:
℗ 2014 Pink Floyd (1987) Ltd under exclusive licence to Parlophone Records Ltd, a Warner Music Group Company
© 2014 Pink Floyd (1987) Ltd under exclusive licence to Parlophone Records Ltd, a Warner Music Group Company