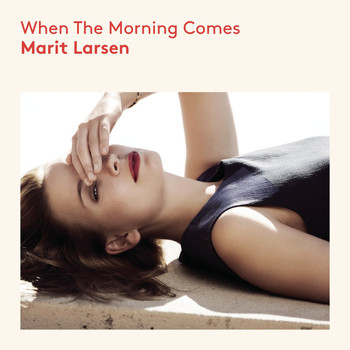 Album vorhören When the Morning Comes
Erscheinungsdatum:
27.03.2015
7digital

Was wir davon halten:

Bei ihrem vierten Album macht Marit Larsen alles anders: zum ersten Mal nimmt sie ein Album außerhalb ihrer Heimat Norwegen auf und begibt sich für die Arbeit an When the Morning Comes nach Nashville, wo sie erstmals auch selbst produziert. Generell wirkt Larsen gereifter und geerdeter als je zuvor und ihr Singer-Songwriter Talent sprüht vor Authenzität und Selbstbewusstsein. Zusammen mit Schlagzeuger Matt Chamberlain, der bereits mit Rufus Wainwright und Fiona Apple zusammengearbeitet hat und Davide Rossi, Streicher für Bands wie The Verve oder Coldplay ist Marit Larsen zu neuer Höchstform aufgelaufen und knüpft nahtlos an ihre bisherigen Erfolge an.
| Tracknummer | Songtitel | Songlänge | Preis |
| --- | --- | --- | --- |
| 1 | Please Don't Fall for Me | 3:13 | |
| 2 | Faith & Science | 3:18 | |
| 3 | I'd Do It All Again | 3:17 | |
| 4 | I Don't Want to Talk About It | 3:20 | |
| 5 | Shine On (Little Diamond) | 3:26 | |
| 6 | Before You Fell | 4:16 | |
| 7 | Lean on Me, Lisa | 3:14 | |
| 8 | Traveling Alone | 2:31 | |
| 9 | Consider This | 4:23 | |
| 10 | When the Morning Comes | 3:30 | |
| 11 | I Don't Want to Talk About It (Live & Acoustic @ Filtr Sessions) (Live & Acoustic @ Filtr Sessions) | 3:11 | |
| 12 | Shine On (Little Diamond) (Live & Acoustic @ Filtr Sessions) (Live & Acoustic @ Filtr Sessions) | 3:05 | |
| 13 | When the Morning Comes (Live & Acoustic @ Filtr Sessions) (Live & Acoustic @ Filtr Sessions) | 2:57 | |
| 14 | If a Song Could Get Me You (Live & Acoustic @ Filtr Sessions) (Live & Acoustic @ Filtr Sessions) | 3:19 | |
| 15 | I Love You Always Forever (Live & Acoustic @ Filtr Sessions) (Live & Acoustic @ Filtr Sessions) | 3:28 | |
| 16 | I Don't Want to Talk About It (Achtabahn Radio Mix) (Achtabahn Radio Mix) | 3:01 | |
Gesamtspielzeit:

53:29
Genres:
℗ 2015 Sony Music Entertainment Germany GmbH
© 2015 Sony Music Entertainment Germany GmbH