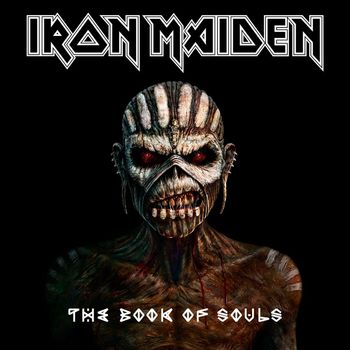 Album vorhören The Book of Souls
Erscheinungsdatum:
04.09.2015
7digital

Was wir davon halten:

Als Iron Maiden 2010 Final Frontier veröffentlichten fürchteten viele Fans dies sei nun das Ende der Band - eine Angst die sich kurz darauf als berechtigt herausstellte als Sänger Bruce Dickinson der Welt mitteilte er kämpft mit Krebs. Glücklicherweise befindet er sich in der Zwischenzeit am Weg der Besserung - und das feiert die Band mit der Veröffentlichung dieses bahnbrechenden Doppelalbums. Maiden Fans können sich freuen - der signifikante Sound der Band ist in rauen Mengen zu finden, gepaart mit neuen Tricks und Soundstrukturen. Das musikalische Ungestüm "Empire of the Clouds" zementiert ihren Thron unter den Metal-Giganten.
Disc 1 von 2

| Tracknummer | Songtitel | Songlänge | Preis |
| --- | --- | --- | --- |
| 1 | If Eternity Should Fail | 8:28 | |
| 2 | Speed of Light | 5:02 | |
| 3 | The Great Unknown | 6:38 | |
| 4 | The Red and the Black | 13:34 | Nicht einzeln erhältlich |
| 5 | When the River Runs Deep | 5:53 | |
| 6 | The Book of Souls | 10:28 | Nicht einzeln erhältlich |
Disc 2 von 2

| Tracknummer | Songtitel | Songlänge | Preis |
| --- | --- | --- | --- |
| 1 | Death or Glory | 5:13 | |
| 2 | Shadows of the Valley | 7:32 | |
| 3 | Tears of a Clown | 4:59 | |
| 4 | The Man of Sorrows | 6:28 | |
| 5 | Empire of the Clouds | 18:01 | Nicht einzeln erhältlich |
| pdf | The Book of Souls - Digital Booklet | | Nicht einzeln erhältlich |
Gesamtspielzeit:

1:32:16
Genres:
℗ 2015 Iron Maiden LLP under exclusive license to Parlophone Records Ltd, a Warner Music Group Company
© 2015 Iron Maiden LLP under exclusive license to Parlophone Records Ltd, a Warner Music Group Company