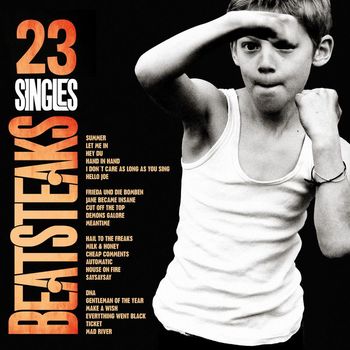 Album vorhören 23 Singles
Erscheinungsdatum:
18.09.2015
7digital

Was wir davon halten:

Seit 20 Jahren gibt es das Gespann rund um Arnim Teutoburg-Weiß und ausgezeichnet hat die Beatsteaks stehts vor allem ihre Authentizät. Die Liebe zu den Fans war immer echt, genauso wie die Freundschaft untereinander und ihre Leidenschaft zur Musik. Die Berliner Truppe ist vergleichbar mit den Toten Hosen oder den Ärzten - Jungs wie wir, deren Laufbahn wir sie seit Jahren begleiten - die Band die man "schon in dem ganz kleinen 200er Club gesehen hat" und die man auf der großen Festivalbühne noch immer liebt. 23 Singles ist eine Werkschau der Band und spart nicht an Großartigkeiten. So finden sich unter 21 remasterten Klassikern wie Summer, Hello Joe oder Milk & Honey, junge Hits wie Gentleman of the Year und auch drei neue Songs. 23 Singles ist eine wunderschöne Zusammenfassung einer deutschen Institution und ist bereits Teil deutscher Musikgeschichte.
| Tracknummer | Songtitel | Songlänge | Preis |
| --- | --- | --- | --- |
| 1 | Summer | 3:26 | |
| 2 | Let Me In | 3:32 | |
| 3 | Hey Du | 3:37 | |
| 4 | Hand In Hand | 2:49 | |
| 5 | I Don't Care As Long As You Sing | 3:20 | |
| 6 | Hello Joe | 3:28 | |
| 7 | Frieda und die Bomben (2015 Remaster) (2015 Remaster) | 3:19 | |
| 8 | Jane Became Insane (2015 Remaster) (2015 Remaster) | 2:47 | |
| 9 | Cut off the Top (2015 Remaster) (2015 Remaster) | 3:07 | |
| 10 | Demons Galore (2015 Remaster) (2015 Remaster) | 2:50 | |
| 11 | Meantime (2015 Remaster) (2015 Remaster) | 2:28 | |
| 12 | Hail to the Freaks (2015 Remaster) (2015 Remaster) | 3:13 | |
| 13 | Milk & Honey (2015 Remaster) (2015 Remaster) | 3:03 | |
| 14 | Cheap Comments (2015 Remaster) (2015 Remaster) | 3:20 | |
| 15 | Automatic (2015 Remaster) (2015 Remaster) | 3:58 | |
| 16 | House on Fire (2015 Remaster) (2015 Remaster) | 3:49 | |
| 17 | SaySaySay (2015 Remaster) (2015 Remaster) | 3:46 | |
| 18 | DNA (2015 Remaster) (2015 Remaster) | 2:06 | |
| 19 | Gentleman of the Year (2015 Remaster) (2015 Remaster) | 4:09 | |
| 20 | Make a Wish (2015 Remaster) (2015 Remaster) | 3:44 | |
| 21 | Everything Went Black (2015 Remaster) (2015 Remaster) | 3:03 | |
| 22 | Ticket | 3:43 | |
| 23 | Mad River | 3:05 | |
Gesamtspielzeit:

1:15:42
Genres:
℗ 2015 Warner Music Group Germany Holding GmbH / A Warner Music Group Company
© 2015 Warner Music Group Germany Holding GmbH / A Warner Music Group Company